wiki:20_rdc_charger:35_commissioning:01_power_sensor
Table of Contents
Power sensor adding

Adding is supported one by one

Before adding or removing power sensor via wireless WM-1 module, button Settings page → Scan w-less dev. must be active!

Connect communication bus (to only one power sensor)

Only for PM1-E-D: Press and hold the push-button on the power sensor until it appears -SEt- on display

Click on the add button next to the source or consumer to which sensor is measuring

Connect communication bus to the next power sensor and repeat procedure
Note: PM3-E-D also supports address change on its display.

Available addresses:
| Address | Power sensor position |
| --- | --- |
| 149 | Default (new PS) appears in field new device |
| 150 | Grid |
| 154,155,156 | Power plants |
| 157,158 | Battery storage |
| 161..167 | Consumers |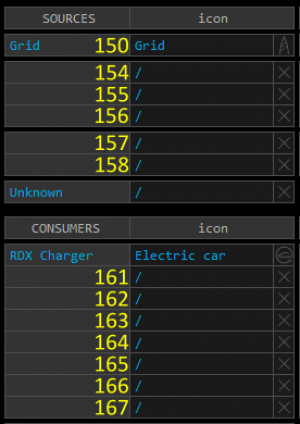 Power sensor removing

Make sure the new device is empty (as on image above)

Only for PM1-E-D: Press the button on power sensor until -Set- appears on the display

After a few seconds, the sensor should appear as a new device

The sensor can be removed or it can be assigned to another device
Without grid power sensor
Settings

→

Virtual grid PS

is an option if no grid meter is used. Power, current and energy will be calculated from other power sensors.
wiki/20_rdc_charger/35_commissioning/01_power_sensor.txt · Last modified: 2023/05/26 13:04 by 127.0.0.1
---