wiki:20_rdc_charger:35_commissioning:04_heat_pump
Heat pump
RDX charger supports monitoring and control of heat pump.
Monitoring consists of tracking power and electricity consumption in real time as well as storing measured data on cloud service.
Control depends on heat pump model if it supports control by an external device.
Note: Max 4 heat pumps are supported by RDX Charger.
Add a heat pump device by configurator:

Define control for heat pump:
check for heat pump control capabilities

Examples of settings for heat pump:
HP has 3 control channels (supports off, reduced power and increased power), then select as is for Heat pump 4,
HP has 2 control channels and is designed as SGRHP (Smart Grid Ready Heat Pump), select as is for Heat pump 1,
Control over WR-1 module installed between thermostat and heat pump, select as is for Heat pump 2.


Define WR-1 output function: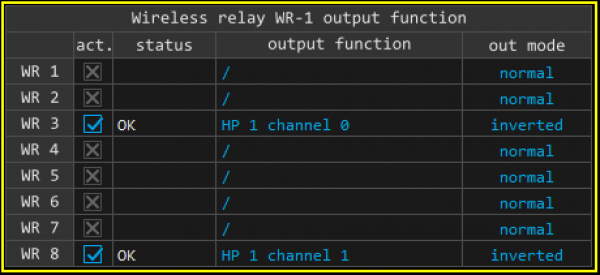 Change heat pump control state:

Possible states are those defined in Heat pump control modes
wiki/20_rdc_charger/35_commissioning/04_heat_pump.txt · Last modified: 2023/05/26 13:04 by 127.0.0.1
---